Intermodal Maintenance and Repair System (IMRS)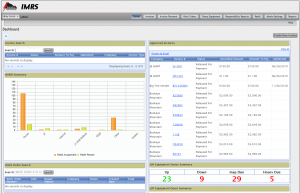 IMRS is a software solution that streamlines your intermodal operations by managing the availability of units in your intermodal yard. From arrival and inspection to repair and departure, IMRS assures your intermodal repair operations are fast, efficient and industry-compliant. Web-based, but with a full client application, IMRS facilitates the management of multiple wireless modes. It also assures users are not interrupted by communication failures and can continue to perform their duties. IMRS includes three modules:
Repair Yard Management
IMRS provides a list of damaged units needing inspection and automatically assigns work orders to the mechanics, who can then view those assigned repairs on a handheld device. When all work is complete on the unit and mate, IMRS closes the work orders and submits them for payment. The system also automatically audits all repairs, identifies re-billable repairs and produces electronic and paper invoices.
Quick-Stop Repairs
IMRS provides the ability to record and charge for repairs requested by drivers for road safety.
Electronic Claims Filing
IMRS enables equipment owners, railroads and external repair vendors to submit invoices for payment. The system automatically audits the invoice and displays any exceptions to the auditors for review. IMRS also identifies re-billable repairs based on damage records, in and out gate inspections and J2 records, and includes these in the electronic and paper invoices.
IMRS manages available intermodal unit inventory across all of your organization's rail terminals and tracks damaged units to assure they are properly inspected and repaired. To avoid wasted time and billing exceptions, IMRS accurately records repairs, assigns work orders and identifies units requiring before and after photographs. This comprehensive software system automatically prices repair work based on vendor agreements, flags repairs exceeding a specified dollar amount and prioritizes repair work based on customer needs. IMRS also enables your rail operation to record state and federal highway inspections.
IMRS is an easy-to-use digital solution designed to simplify intermodal inspection, maintenance and repair processes, while assuring compliance with required maintenance standards.
IMRS Highlights:
Expedites the intermodal repair and billing process through each phase of inspection, repair and invoicing
Identifies intermodal equipment requiring attention and determines whether photos are needed
Generates work orders and assigns repair to appropriate mechanic(s)
Establishes and enforces maintenance and repair standards
Closes work orders when all repairs are completed on the mated set and submits for payment
Accepts invoices for audit and generates invoices for re-billing
Allows monthly and annual tracking of repairs and expenses by location, item and type of damage